16. Dr. Bares Award, Publication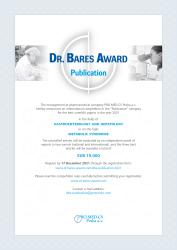 The pharmaceutical company PRO.MED.CS Praha a. s. announces the Dr. Bares Award Publication competition for the year 2021 to support medical and scientific knowledge in clinical practice.
The Competition shall be held from 1 April 2021 to 26 February 2022. Competition applications may only be submitted from 1 April 2021 to 17 December 2021.
Opened for
AE, AZ, BA, BE, BY, CN, CZ, DE, EE, GB, GE, KG, KW, KZ, LT, LV, MD, MN, MY, PL, RU, SA, SI, SK, TN, TM, UA, UZ, VN
Financial reward
19 000 EUR